Designed for Efficiency
Due to its portable size and sleek design, EyeRIS is the world's most efficient way to interact with your computer applications on a life size surface without the use of any bulky touch surface or even a keyboard or mouse.
Know more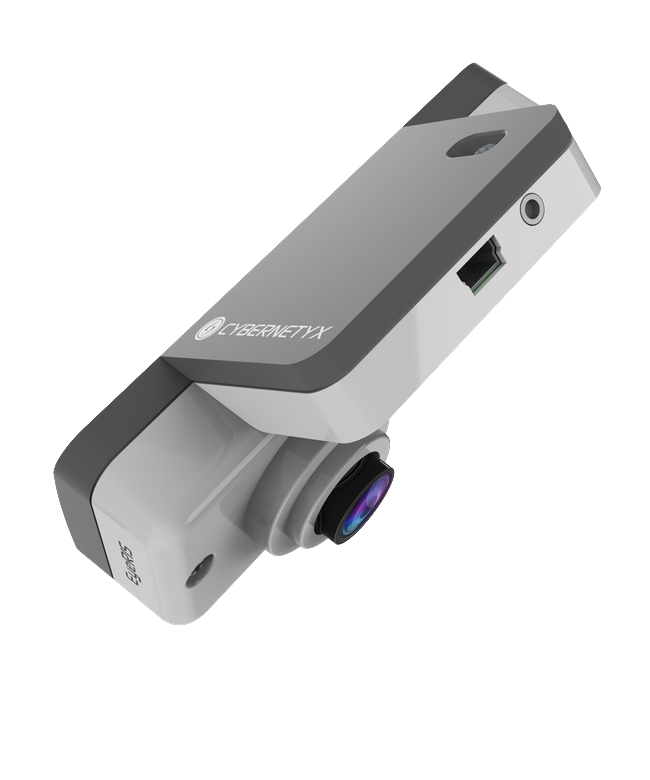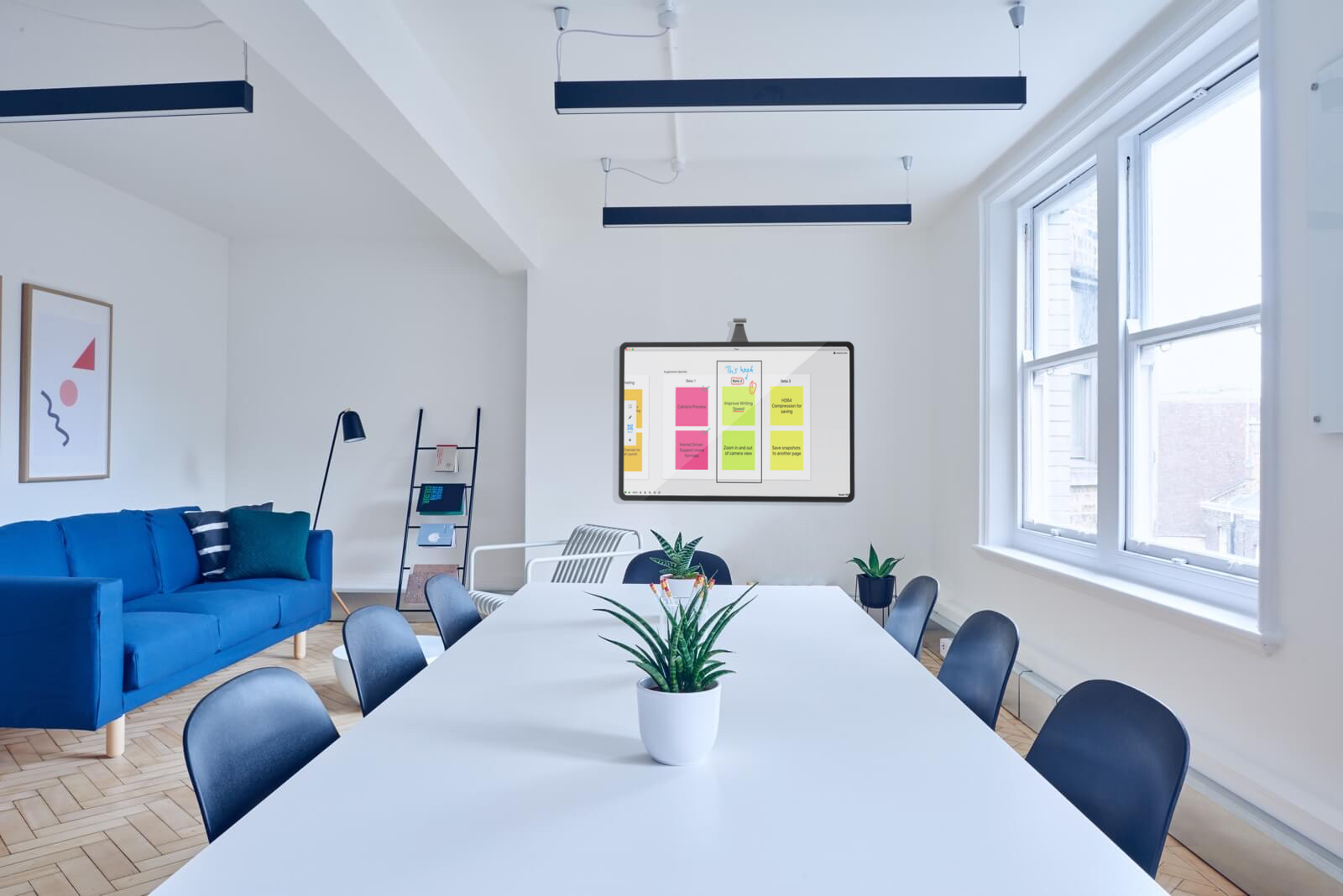 Interactivity,
On Demand.
EyeRIS can attach to any flat surface like a wall, a dry-erase whiteboard or a screen, and transform it into full fledged touch interactive surface.


---
Image showing EyeRIS ultra-short focus interactive sensor attached to a dry-erase whiteboard hanging on a wall running IntelliSpace Application.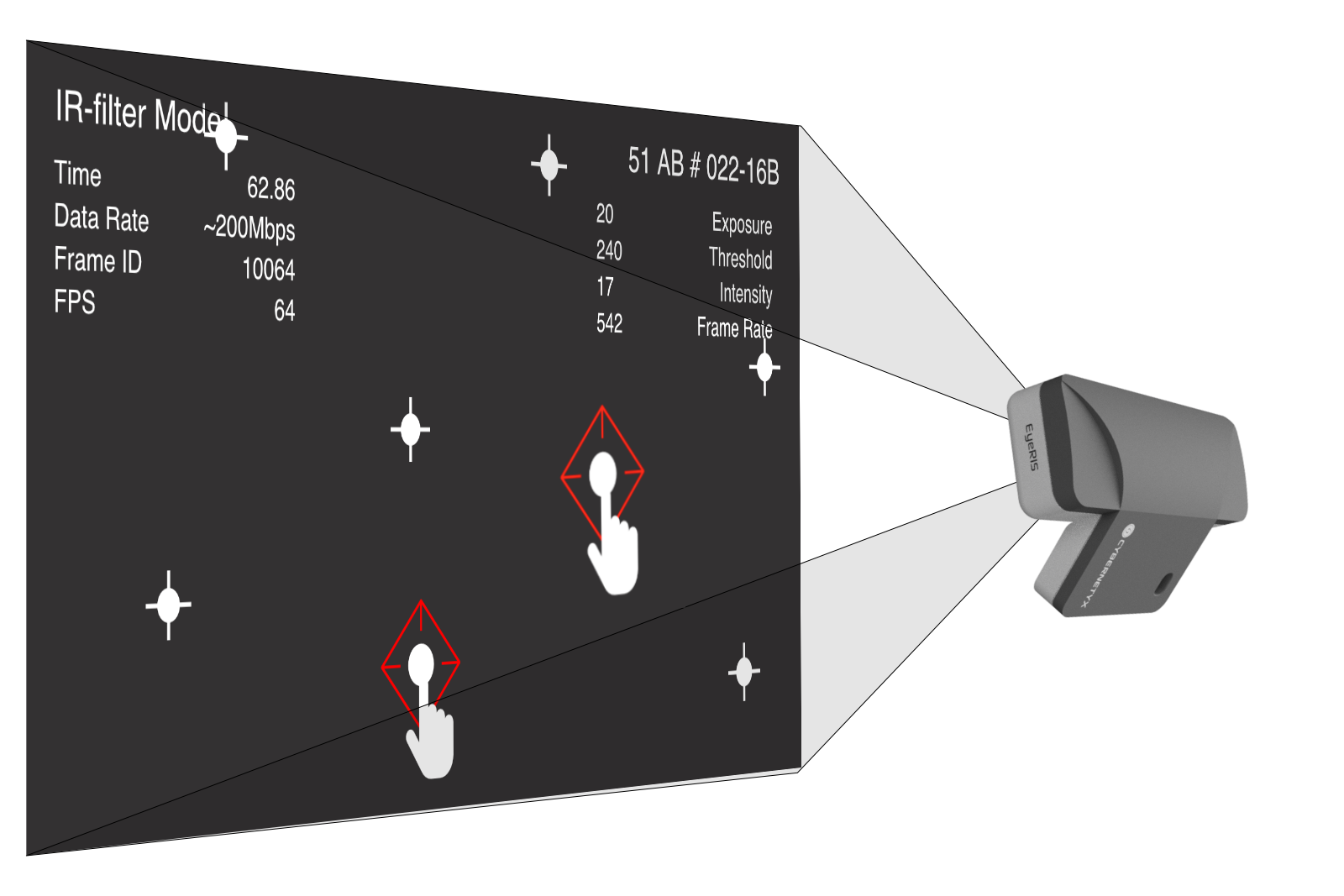 High-speed tracking
with a wide vision
EyeRIS is an optical interactive device with built-in high speed image sensors which can intelligently track and learn the environment and allow for a seamless information control with any display.
---
In image, EyeRIS tracking a large volume of 3D space in front to track human input signals.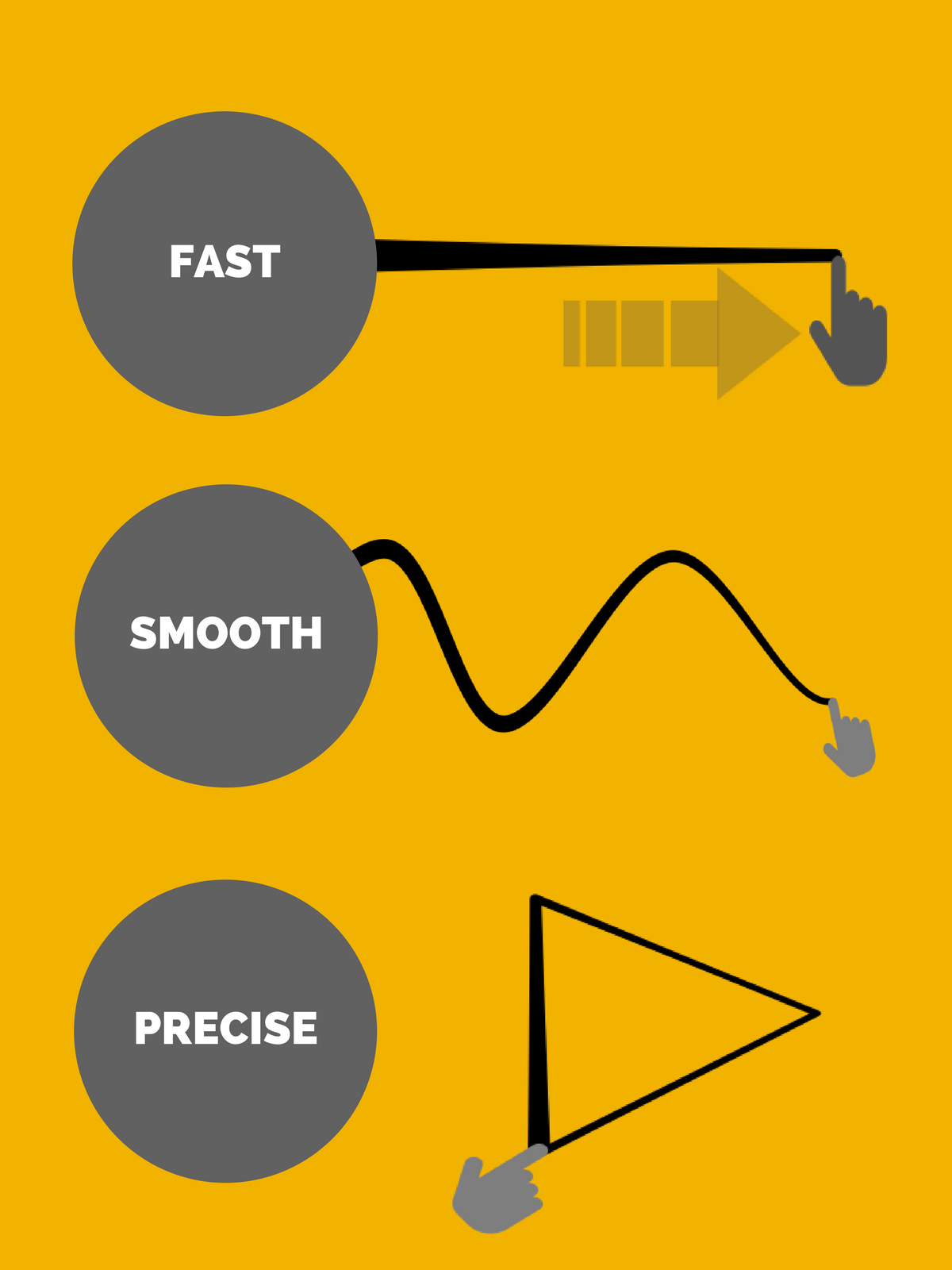 The best interactive experience you can get.
EyeRIS tracks human input signal at about 195 million dots/second with effective refresh rate of upto 200 Hz. This provides an unprecedented interactive experience while using your applications.
Input Speed with signal refresh latency below 8ms.
Real-time interaction and writing speed without any lag and superior interactive performance.
Precise interaction
Even though EyeRIS is mounted very close to a wide surface, superior optical undistortion algorithms allow it to track every input with pixel precision.
Smooth annotations and writing
Backed by the state-of-the-art anti-noise and anti-jitter algorithms — you'll love the quality of interaction you get with your applications via EyeRIS.
Machine Learning for Human Input Classification
EyeRIS is the first device to use machine learning for human-computer interaction for surface computing.
Using advanced deep learning algorithms, EyeRIS is able to distinguish between Ambient noise and Human Input more efficiently than any other computer interface in the world.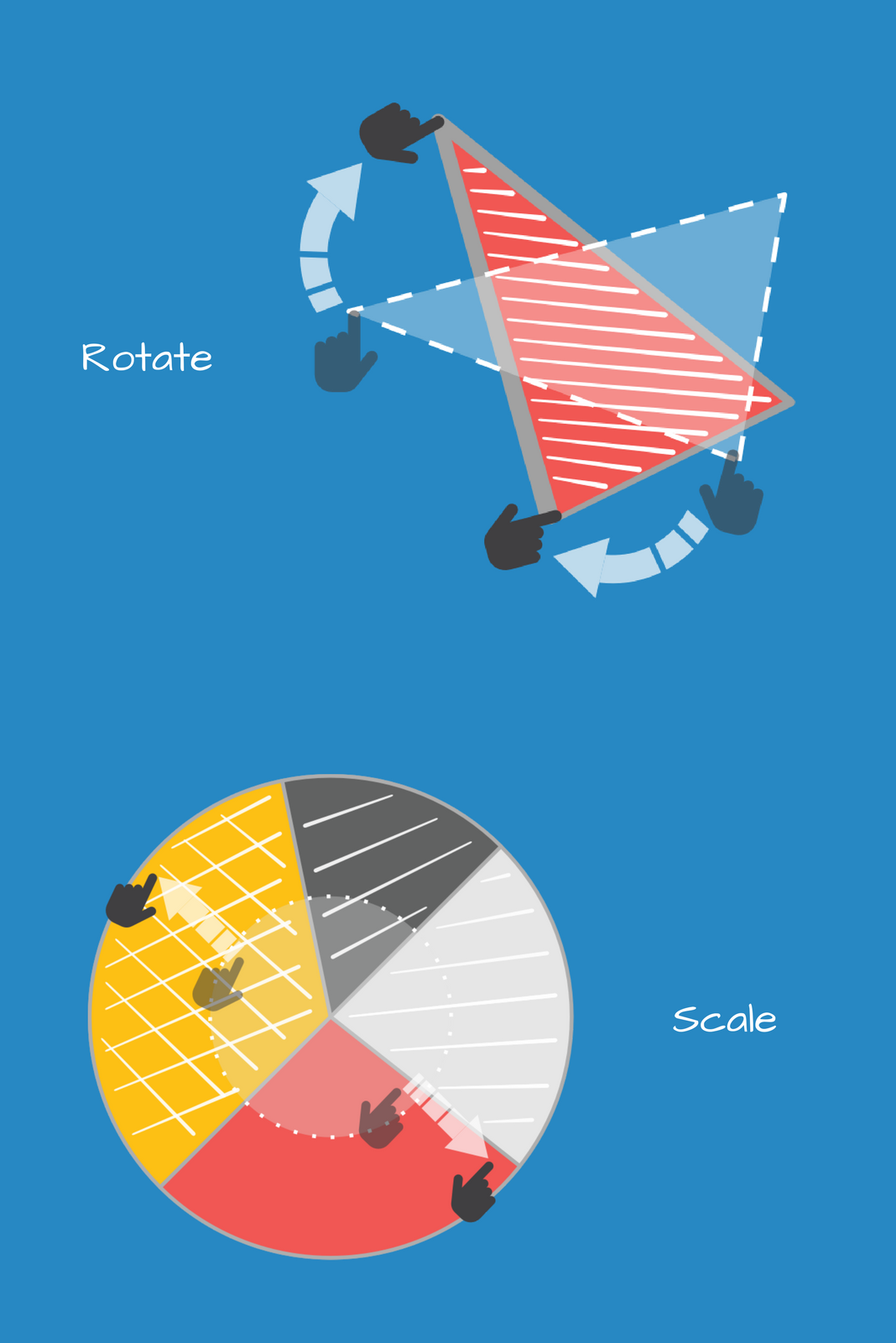 Multitouch gestures for seamless interaction
EyeRIS supports a plethora of Multitouch gestures for you to interact conveniently with your content and applications and achieve results faster.
Rotate
Use any two input points to rotate the object in any multitouch supporting application as you would do on a smartphone device.
Scale
Use two input points and take them apart to scale any object in any multitouch supporting application.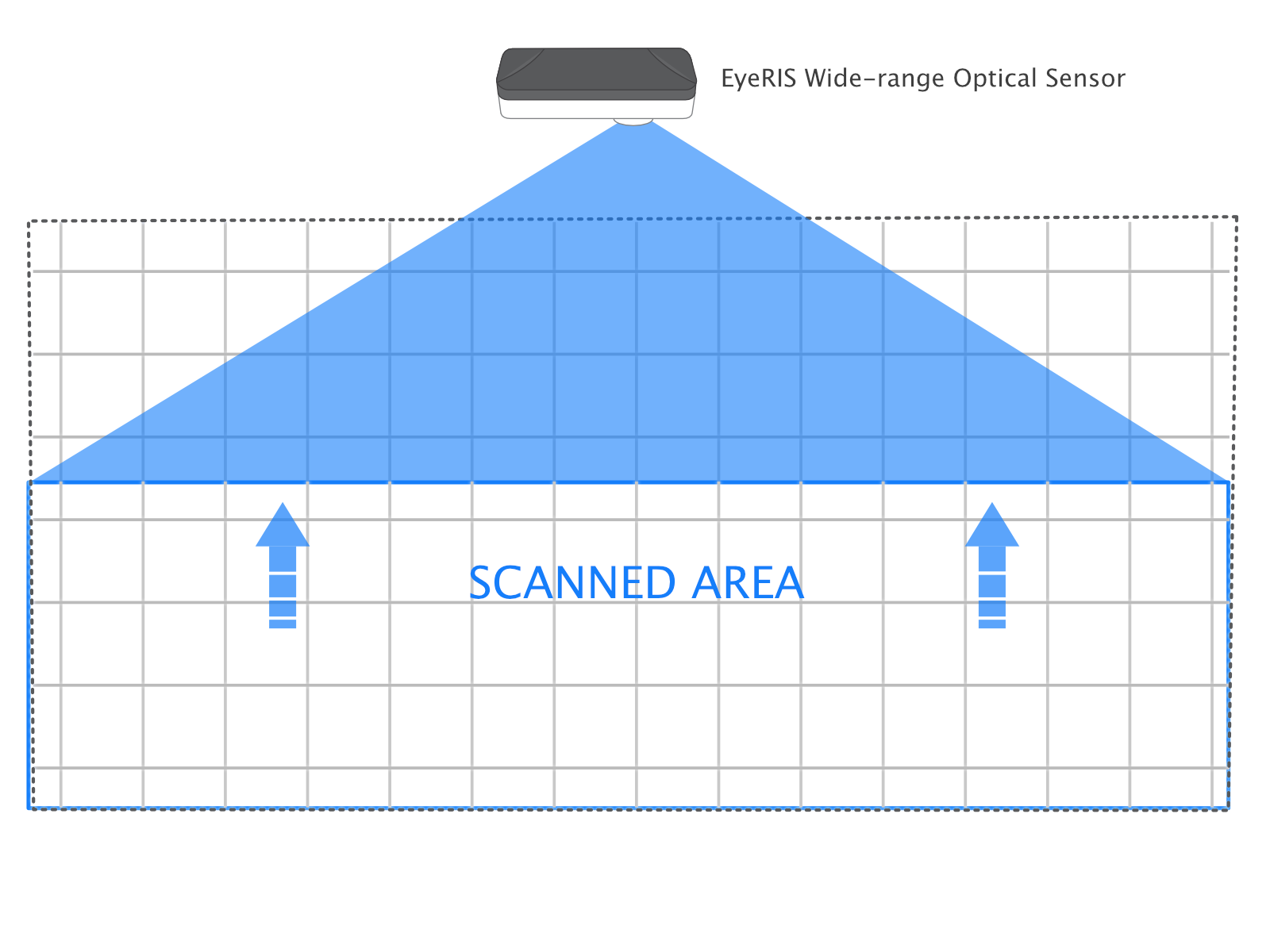 Automatic Calibration
EyeRIS IX has a built-in mechanism to switch the tracked bandwidth of light to visible mode and scan the surface of interest to calibrate itself. No need of the usual point-by-point manual calibration to make the surface interactive.
---
EyeRIS was one of the first HCI products in the world to introduce the Automatic Calibration feature.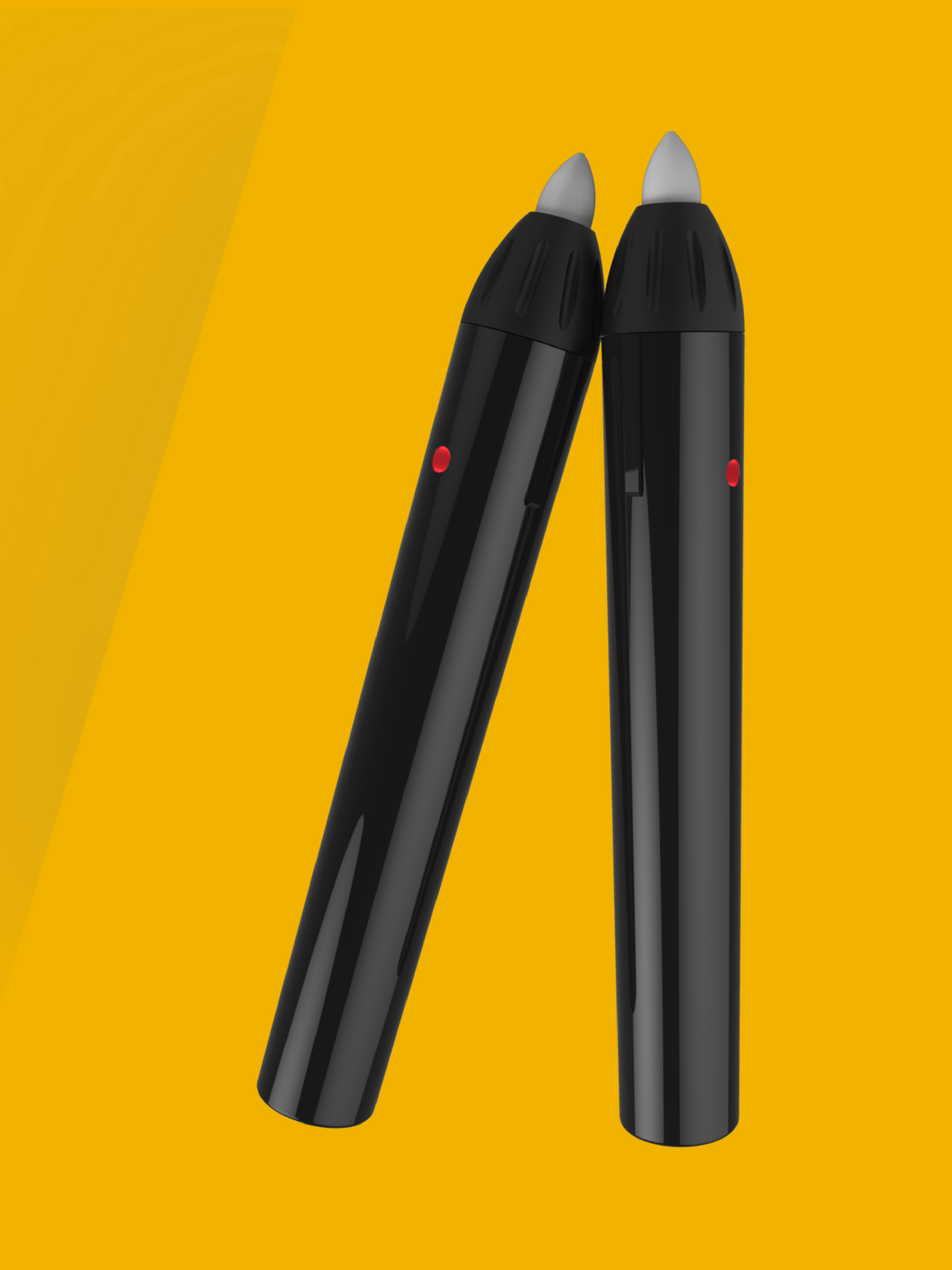 Super-capacitive Stylus
EyeRIS tracks human input signal at about 195 million dots/second with effective refresh rate of upto 200 Hz. This provides an unprecedented interactive experience while using your applications.
Blazing fast charging time
Unlike battery-based Styli, EyeRIS SuperCapacitive stylus charges in 180 seconds flat and needs no expensive battery replacements.
Light weight at under 30gms
Feels like a normal dry-erase marker, making it very comfortable to hold and use.
Feather touch
Tip activates by less than 8g of force applied in any direction which makes it a breeze to use on any surface without pressing hard.
Bundled with IntelliSpace
Cybernetyx's industry leading interactive software suite with 1000s of tools and unlimited content access for both learning and productivity comes free with EyeRIS IX product range.
Know More
or see IntelliSpace in action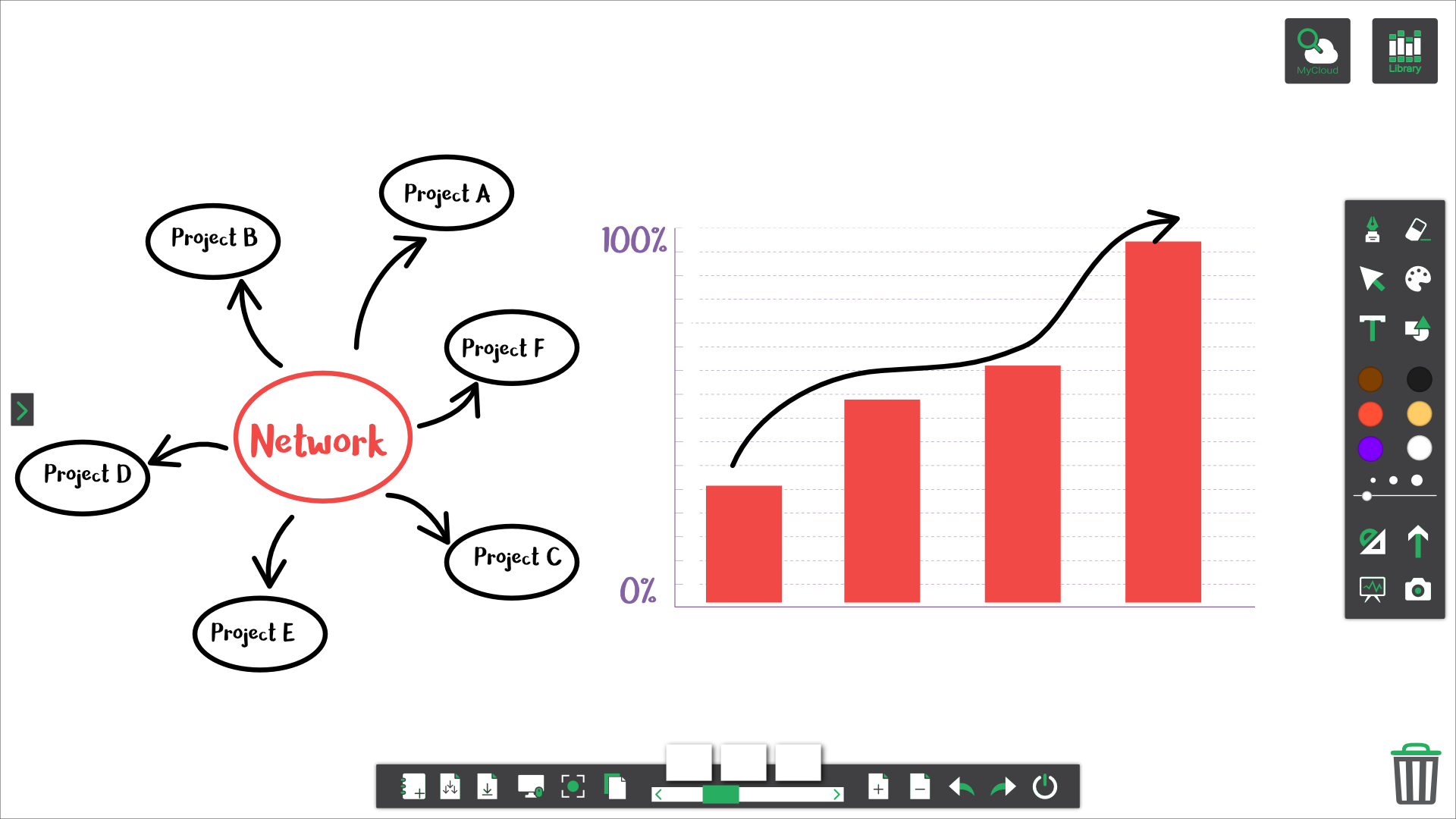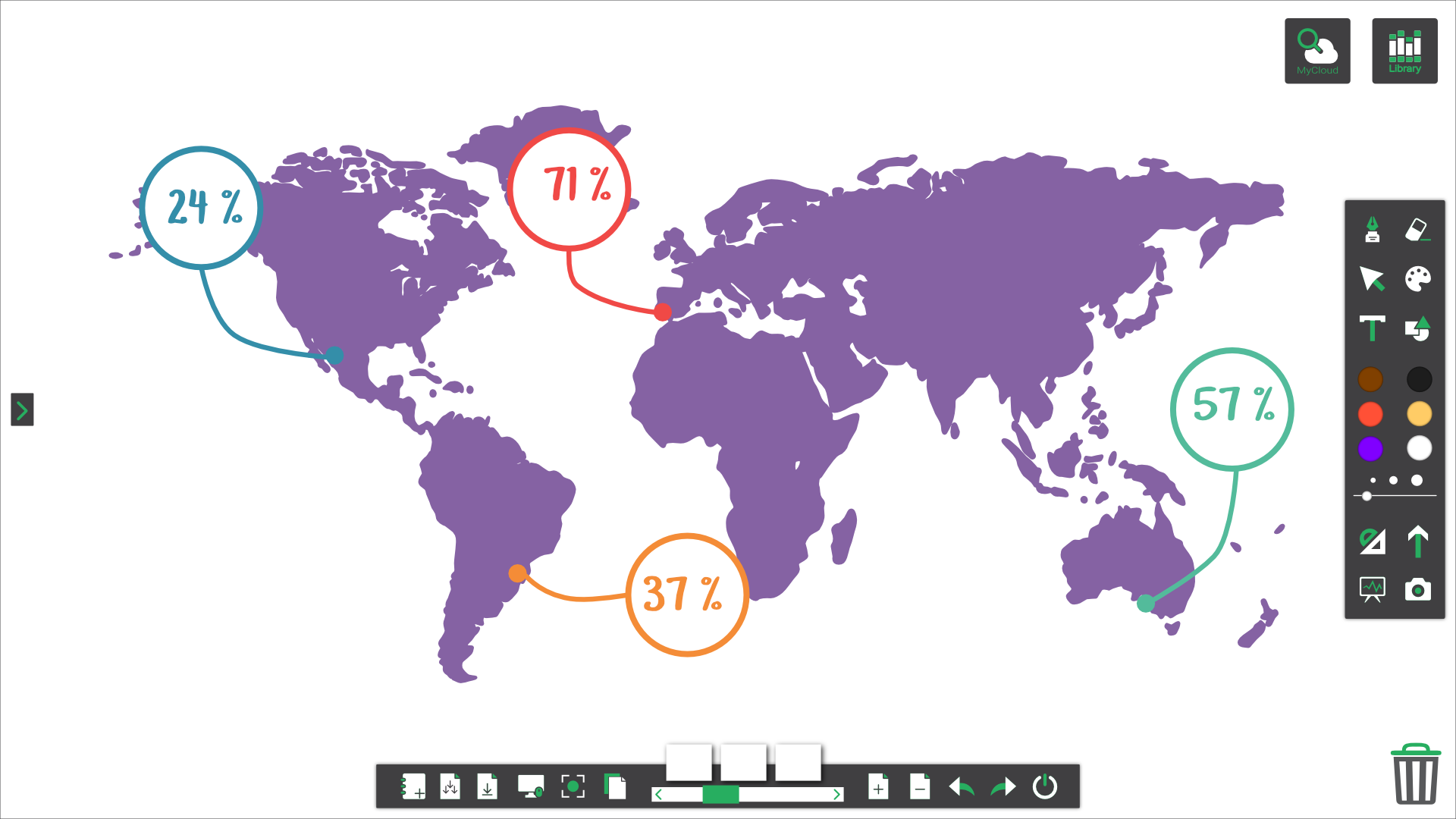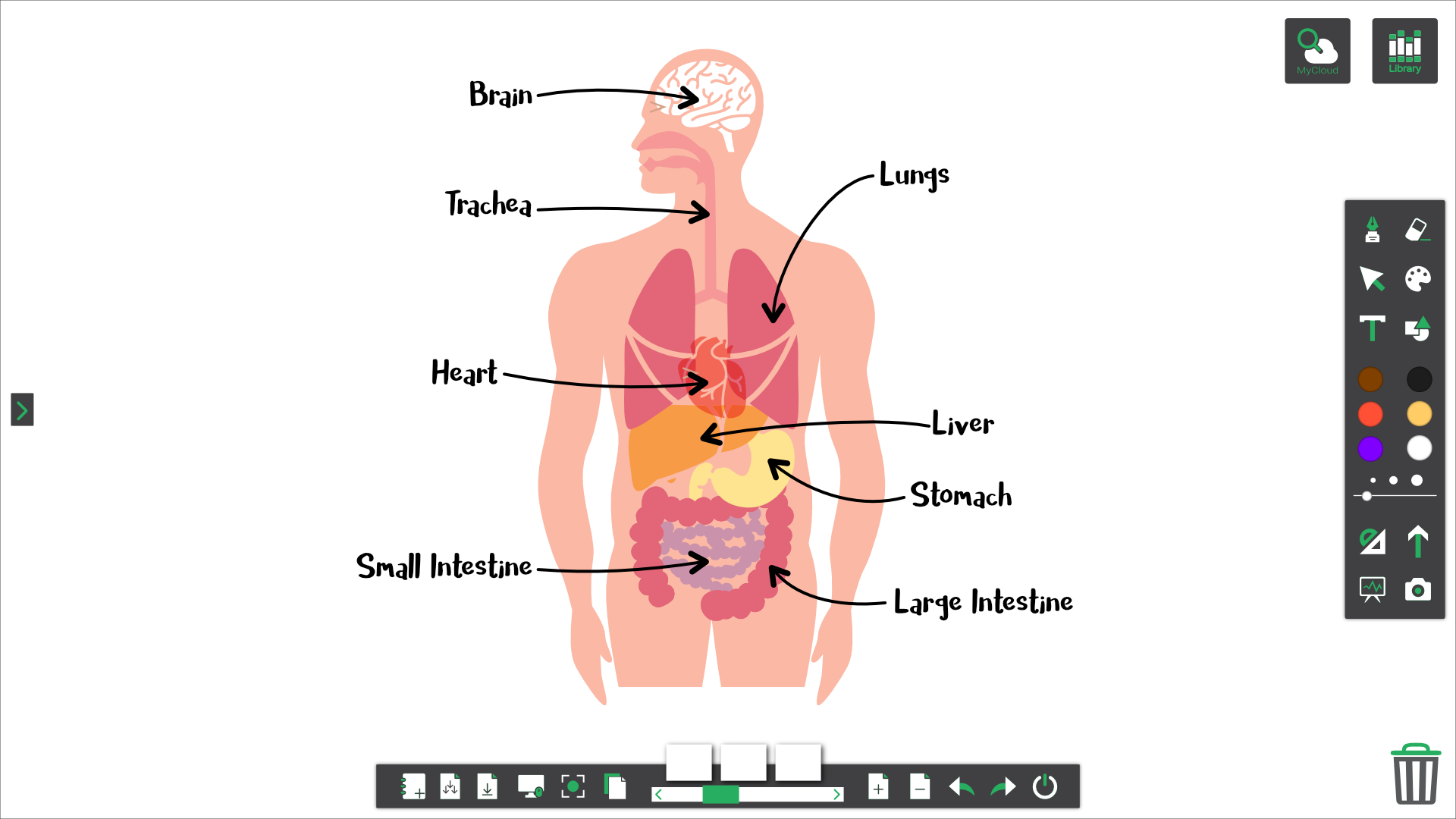 Setup is as easy as 1-2-3
EyeRIS is very simple to setup and convert your regular dry-erase Whiteboard or wall to a unique touch-interactive surface with unprecedented interactive response at the press of a button.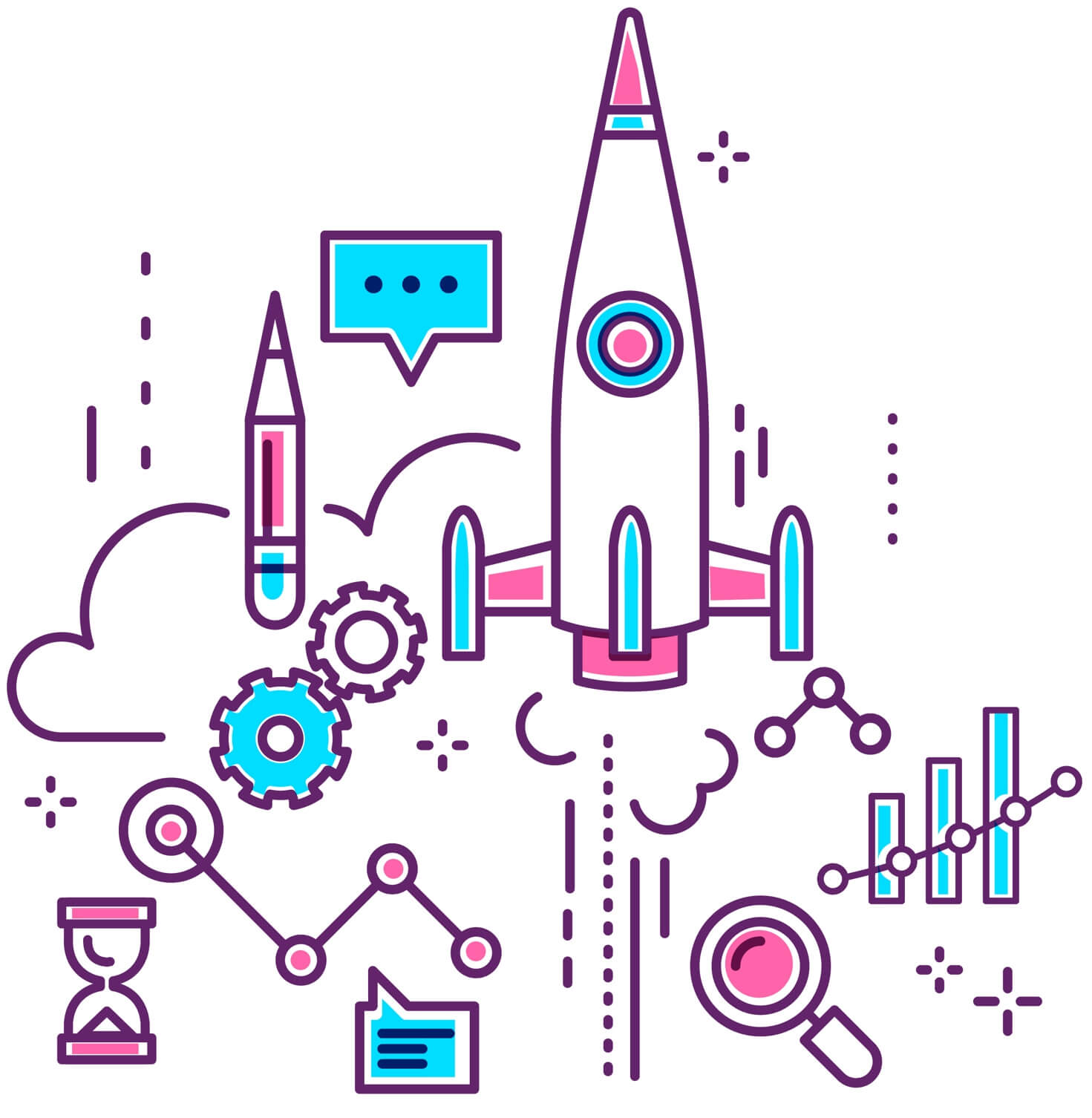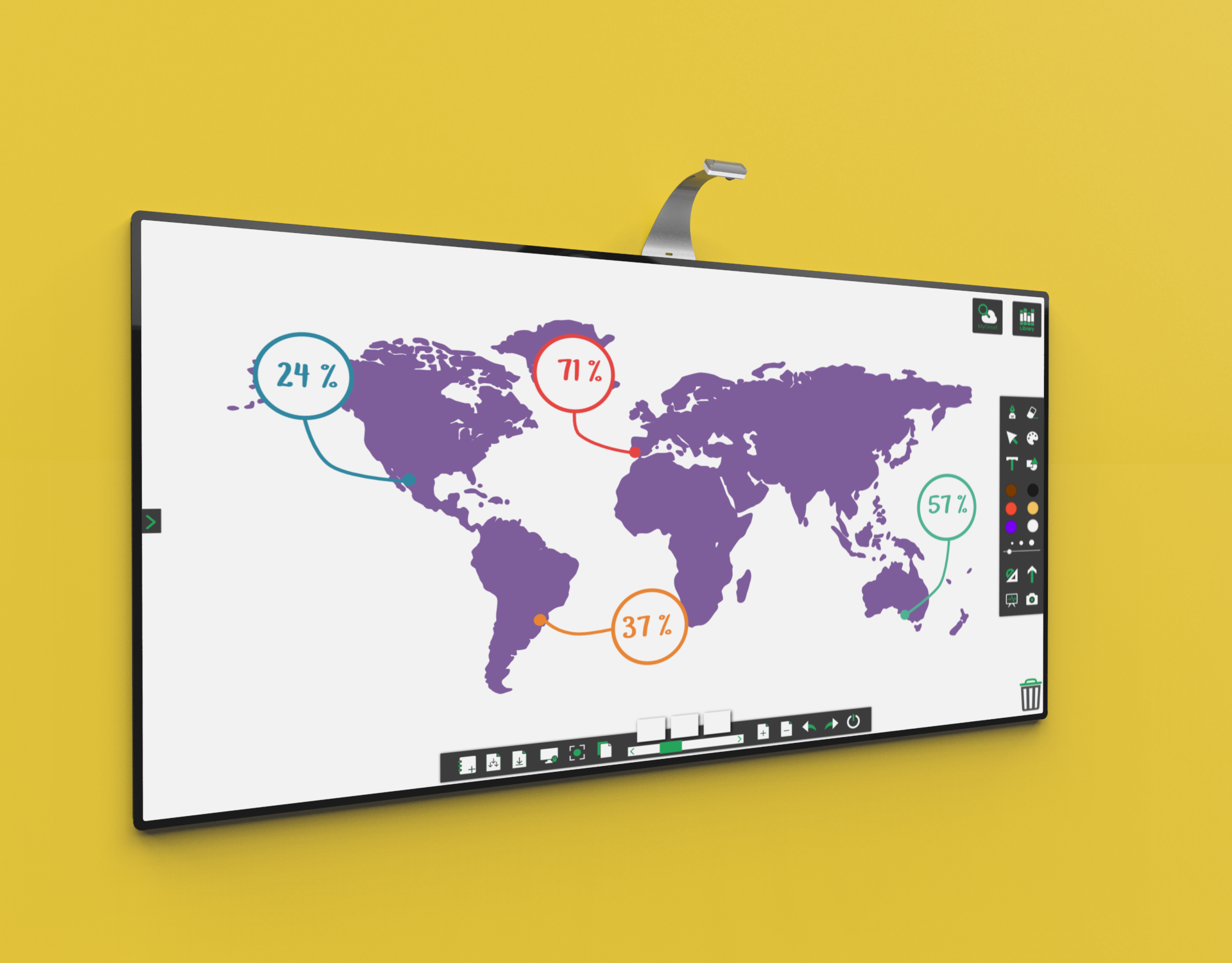 EyeRIS Sensor Being used on a dry-erase Whiteboard together with IntelliSpace Application.
Attach

Attach your EyeRIS Sensor via the sleek mount to the dry-erase Whiteboard or Wall or directly to the ST or UST Projector.

Auto-Calibrate

Press Auto-calibrate button to finish the setup once you've aligned your projection.

Interact

Your surface is now intelligent and ready to be used as a full-blown touch interactive surface by using Stylus or your fingers.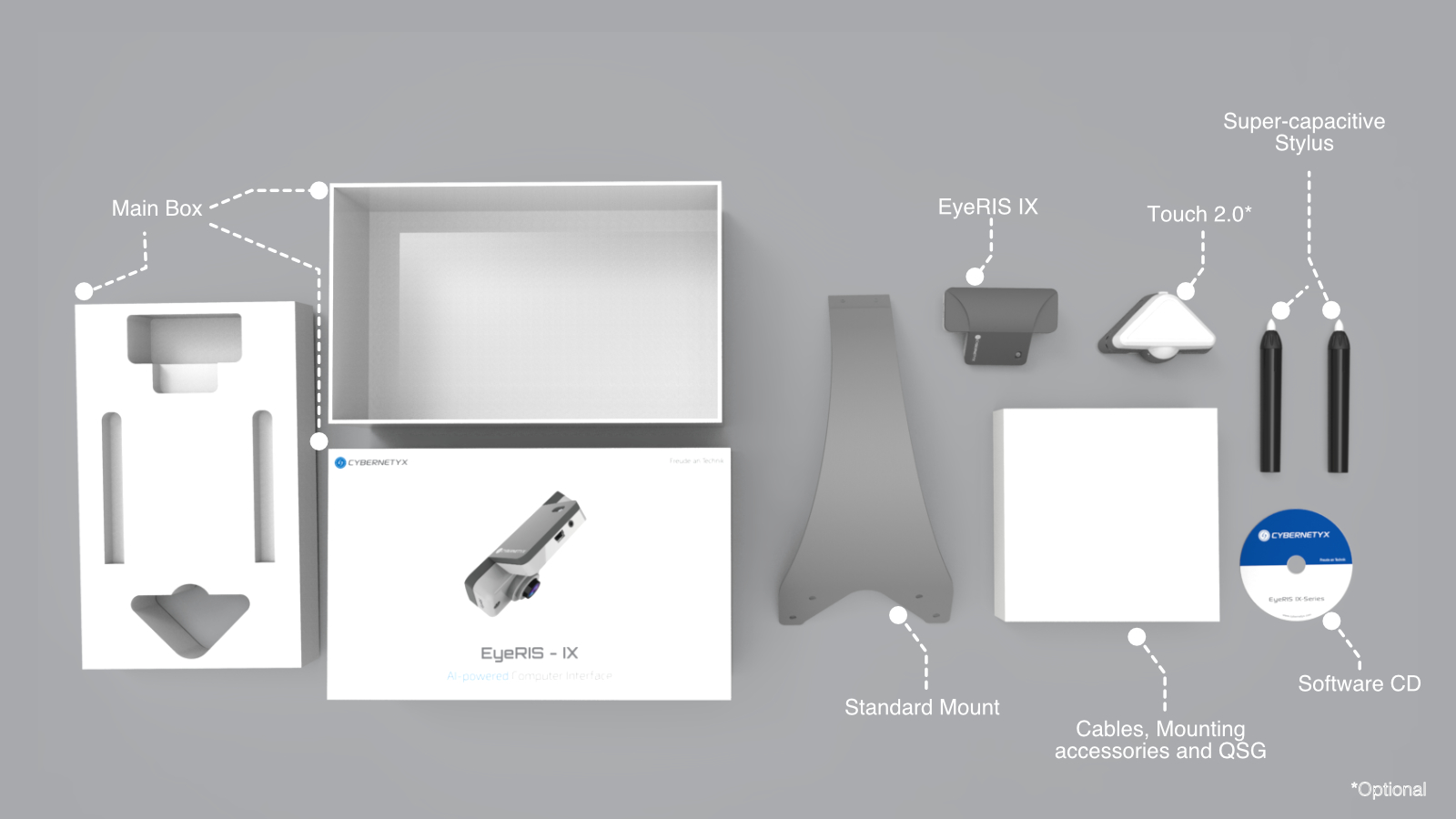 | | |
| --- | --- |
| Movement Detection Technology | 3-D Optical Tracking |
| Tracking Active Area (max projection size) | Up-to 100" for 16:9 aspect ratio (wide Screen) and Up-to 80" Diagonal for 4:3 Aspect ratio |
| View Angle (vertical) | 95 degree |
| View Angle (Horizontal) | 110 degree |
| View Angle (diagonal) | 170 degree |
| T/R Range | 0.16/0.2/0.4/0.6 |
| Tracking Speed | 60-70 FPS. |
| Ambient Light Resistance Technology | 850 +/- 20 & 650 +/-20 dual band tracking technology (Visible and IR bands) |
| Simultaneous Mouse Input Support | 255 (System configuration dependent) |
| Calibration Technology | Automatic as well as Manual Calibration |
| Data Refresh Rate | 195 Million dots/sec, USB Bandwidth around 200 MBPS |
| Power Requirement | 5V |

| | |
| --- | --- |
| Technology | 180°PRISM laser |
| Laser diode quantity | 1 |
| Output power | 200mW in CW |
| Red Light Laser | Yes |
| Red Light Laser Wavelength | 650nm +/-20 |
| Divergence angle | 180°PRISM |
| Power Voltage | 5V/1.5A |
| Power Consumption | 1W |
| Operating environment | Temp -10 ~ 50C / Humidity 0%-95% |
| Storage environment | Temp -30 ~ 70C / Humidity 0%-95% |
| 0 & 180°Power | ± 60% of 90°Power |
| Life time | ±7000hr ±7000hr |
| Line width | 2.0mm ± 0.5mm at 1.5m |
| Magnet | Yes |
| Mini USB | 1Micro |
| USB to Micro | USB1 (4.5M) |
| Y-Cable Mini USB/Audio mono 2.5mm/USB TYP A | 1 (5M) |
| Power Adapter | 5v/2A 1 |

| | |
| --- | --- |
| Movement Detection Technology | Pressure Sensing Detection |
| Charging Technology Used | Super-Capacitive technology |
| Charging Time | 3 minutes |
| Pen Body Dimension | 134 mm (length); 16 mm (diameter) |
| Charging Time | 3 minutes |
| Weight | Under 30 g |